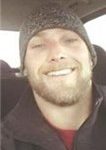 Austin James Hersha, 29, of Constantine, died on Sunday, September 3rd, 2017 while riding his Harley, with a smile on his face on a beautiful night following a day spent with family and friends. He was born June 6, 1988 in Sturgis, a son of Robert and Twila (Bingaman) Hersha. Austin graduated from White Pigeon High School in 2007. He was employed as a group leader in the RV industry currently at Thor Industries of Wakarusa, and previously at Coachman of Middlebury. Austin's last words to a friend… "You have to get up and live life and get over the bad"… Well Austin made himself "get up" many times, and he lived life as if nothing bad would ever happen again.
Surviving to cherish his memory and all of the "Austin Stories" are his mother Twila Hersha, White Pigeon; father Robert (Kellee) Hersha, Mishawaka; grandmother Sally Cullimore, Klines Resort Mendon; brothers Adam (Wendy) Schrader, White Pigeon and Jeremy Hersha, Flint; sisters Teresa (Anand) Ramachandran, LaGrange and Betsy Hersha, Fort Pierce, FL; his nieces and nephews who were the victims of his endless attacks and teasings, special nephew Josh and Elizabith, Karlie, Manisha, Shakthi, Atreyu, Claycee, Kenlee, Brianna and Tyler; as well as several, aunts, uncles, cousins and his best dog Boomer. He was preceded in death by his unborn son, grandparents Thomas and June Hersha and Phillip and Anna Bingaman, and step-grandfather Leon Cullimore.
Relatives and friends will be received Thursday from 2-4 and 6-8 pm at Eley Funeral Home in Constantine. Religious services will be held Friday at 11 am at the funeral home with Pastor Kent Miller, First Mennonite Church of Middlebury, officiating. Burial will be in White Pigeon Township Cemetery. Memorial contributions may be directed to the family, care of Twila Hersha. Online messages may be left for the family at www.eleyfuneralhomes.com.