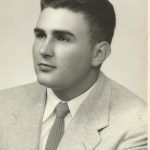 Mr. Bruno Masnari, age 84, of Three Rivers, passed away on Monday, Sept. 18th 2017 at Borgess Medical Center surrounded by his loving family. He was born in Three Rivers on September 26, 1932 the son of the late Antonio and Giavanna (Lupato) Masnari.
Bruno attended and graduated from Three Rivers Schools in 1947 where he excelled at football, basketball, and golf. Upon graduation he began work at Michigan Gas and Electric. He later went on to earn an electronic technology degree from Western Michichigan University in 1957. On September 28th of that same year Bruno was united in marriage to the love of his life Mrs. Marilyn "Micky" Masnari. From 1949 thru 1960 Bruno served his country in the National Guard Company B 246 Tank battalion. Bruno continued his career with Michigan Gas Company garnering many positions and ultimately retired as Vice President of Operations.
Bruno and Marilyn raised three wonderful sons who all attended Three Rivers schools. Bruno was instrumental in starting and coaching both Rocket football and Junior Pro Basketball. Bruno has served as a member of the Three Rivers Area Hospital Authority Board, past vice president of Three Rivers Rotary, past president of Michigan Gas Association. Bruno was life member of the Three Rivers Elks, Immaculate Conception Catholic Church and the Sauganash Country Club where he continued to play until just recently. He was a life long and faithful fan of Notre Dame Athletics.
Bruno was preceded in death by his loving parents, loving wife, Marilyn (McKee) Masnari; and very special brother Raymond Masnari with whom he shared many Three Rivers football and basketball games together.
Bruno leaves to cherish his loving memory, three sons, John (Terri), Steve (Belynda), and Dave Masnari, all of Three Rivers; two beloved granddaughters, Laurin and Linsey Masnari; brother, Nino (Judy) Masnari, and his children, Maria, Jeff and Mike; two special nieces Joanna and Russ Cannon and Jill Martin. Very special sister-in-law, Lori Masnari. Several great nieces and nephews.
Bruno's family will receive friends from 5:00 p.m. until 8:00 p.m. on Thursday, Sept. 21, 2017 at the Hohner Funeral Home with Rosary Service beginning at 7:30 p.m. with Deacon Bart Connelly officiating.
Memorial Mass will be held at 11:00 a.m. on Friday, Sept. 22, 2017 at Immaculate Conception Catholic Church with Fr. Anthony Rajesh officiating.
Memorials may be directed to Three Rivers High School Football or Immaculate Conception School. Envelopes available at the funeral home. Online condolences may be left at www.hohnerfh.com