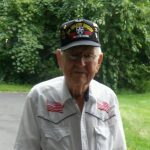 Dale E. Velie, age 86, of rural Mendon, died Friday, September 15, 2017 at the Veterans Administration Hospital in Battle Creek. He was born in Centreville, on May 11, 1931 the son of Samuel and Effie (Mellivan) Velie and has been a lifetime resident of St. Joseph County. He received his high school diploma from Centreville High School. Dale was married to Marilyn Ruth Fieberkorn on Feb. 24, 1951 in LaGrange. He joined the U.S. Army in 1952, served in Korea and was awarded the Korean Service Medal with a bronze service star.
Dale worked for Coachman Industries for many years, and following his retirement, he and his wife delivered Viking campers across the United States and Canada. He was an active member of St. Paul Lutheran Church in Colon where he has attended the past 58 years. He served as a Board Member for Colon Schools and volunteered at a Boy Scout Master. Dale was very patriotic and was a member of the D.A.V., the American Legion, and the Second Division Association. In his spare time, he enjoyed fishing, hunting, and detailing his pick-up truck.
Dale is survived by two children, Diana (Danny) Breneman of Mendon and Larry (Patricia) Velie of Shelbyville; four grandchildren, Jason (Michelle) Breneman, Chad (Jenni) Breneman, Cap't. Jordan (Julie) Velie, and Kelsey (Scott Bockus) Velie; five great-grandchildren, Brooke, Brock, Mayson, Jayden, and Jenna; a brother Gene (Shirley) Velie of Pelston. He was preceded in death by his parents; his wife, Marilyn in 2010; four brothers, Floyd, Henry "Bud", Glen, and Meryl Velie; and his sister, Anna May Velie.
The family will receive friends from 5 to 7 pm Friday, September 22, 2017 at the Eickhoff Funeral Home in Mendon. Funeral services will be at 11 am on Saturday, September 23, 2017 at St. Paul Lutheran Church in Colon with Rev. David Grimm officiating. Burial will be in Leonidas Cemetery. Memorials will be directed to the Community Living Center (CLC) at the Battle Creek Veterans Administration Hospital. Condolences may be expressed to the family online at www.eickhofffuneralhome.com