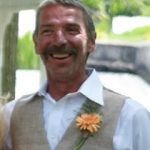 David Lee Hoyt, age 58, of Three Rivers passed away on Sunday, September 17, 2017 at Borgess Medical Center after a brief and courageous battle with cancer. He was born in Three Rivers, on July 31, 1959 the son of Robert and Joyce (May) Hoyt. David graduated from Three Rivers High School class of 1977. He then went on to learn and work the construction trades. In 1980 he began work with his brother and best friend, Dennis at Hoyt Construction. Over the next nearly four decades David was a very hardworking and talented leader who took great pride in the many structures he was involved in building that dot the landscape of Southwest Michigan and Northern Indiana. David took after his father in that he wasn't afraid to attempt to fix anything. David loved his family and cherished time spent with them. He especially loved his trips to St. Pete, FL. to visit his daughter and her extended family as well as Fourth of Julys spent on Fishers Lake. David was an avid hunter and outdoorsman and loved spring mushroom hunting as well as the fall deer hunting season in Michigan with his son Colbey. He was also an avid nascar fan watching nearly every race rooting for Dale Earnhardt and later Jr. David was a member of Three Rivers Eagles #2303 and Three Rivers Elks Lodge #1248.
He was preceded in death by parents, Robert and Joyce Hoyt; Brother Richard and Sister Sharon Hoyt as well as father-in-law, Art Stickney and brothers-in-law Jack VanScoik and Christopher Shellhammer.  Surviving to cherish David's memory are the love of his life and high school sweetheart, his wife, Gina M. (Stickney) Hoyt of Marcellus; daughter, Shauna (Joshua) Meyers of Three Rivers; son, Colbey (Brooke) Hoyt of Three Rivers; sisters, Linda (Jim) Auskalnis, Kathy (Brad) Hartzell, Brenda VanScoik, Darci (Kurt) Miller, and Amy Shelhamer; brothers, Dale (Patricia Sabeck – Cooper) Hoyt and Dennis Hoyt (Gloria Ulmer); grandson, Mac Meyers; mother-in-law Carol Stickney, many aunts, uncles, nieces, and nephews.
Dave's family will receive friends Saturday, September 23, 2017 at the UAW Hall, 15802 Hoffman Rd. Three Rivers for visitation from 10:00 a.m. until 12:00 p.m with funeral services to follow at 12:00 to 1:00 p.m., a luncheon from 1:00 to 3:00 p.m. and a time of remembrance and celebration of David's life following at 3:00 p.m.
Memorial donations may be directed to the Hoyt Family c/o Gina Hoyt. Envelopes will be available at U.A.W. Hall and Hohner Funeral Home in care of arrangements. Online condolences may be left at www.hohnerfh.com.