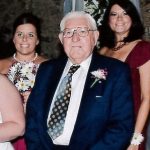 Ernest Timm, Jr., age 90, of Three Rivers, died Saturday, September 23, 2017 at Fairview Living and Rehabilitation in Centreville. He was born in Nottawa Township on April 30, 1927 the son of Ernest F. and Emma S. (Schmidt) Timm. He graduated from Mendon High School with the class of 1944 and worked on the family farm. Ernest then went to work for Globe Construction, paving and constructing roads for 30 years before moving to New Jersey in 1981. There he continued to supervise the building roads for A.E. Stone, and Jimmy Glasgow Construction. Following his retirement, he became an inspector, completing 65 years in in road building. He was a member of the Fraternal Order of Eagles for over 50 years and a member of the Royal Order of Moose for more than 35 years.
Ernest is survived by three children, Patricia (Glenn) Dane of Three Rivers, Judith Furlong of Constantine, and George (Laurie) Timm of Three Rivers; 9 grandchildren; 19 great-grandchildren; 4 great-great-grandchildren; sister in law, LaVern Timm of Centreville; special friends John & Mary Wilson of New Jersey; in laws in Sweden; and many nieces and nephews.
He was preceded in death by his parents; his wife, Stina (Bigelius) Timm in 2015; five brothers, Laverne, Walter, Albert, Donald, and Lloyd Timm; five sisters, Josephine Timm, Maxine Timm, Grace Nicholas, Lena Sindt, and Louise Yeomans.
The family will receive friends from 1:30 to 3:30 p.m. on Wednesday, September 27, 2017 at the Eickhoff Funeral Home in Mendon. Funeral services will begin at 3:30 p.m. on Wednesday at the funeral home with Rev. David Grimm, Pastor of St. Paul Lutheran Church officiating. Burial will be in Prairie River Cemetery in Centreville. It is suggested that memorial contributions be directed to the St. Joseph County Commission on Aging, 104 S. Douglas Ave., Three Rivers, MI 49093. Condolences may be expressed to the family online at www.eickhofffuneralhome.com