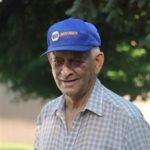 Eugene "Gene" Arthur Blasius, age 86, of Three Rivers, passed away early Monday, Sept. 18th, 2017 at the Grace Healthcare Nursing Home.  He was born on Dec. 22, 1930 in Three Rivers, the son of the late Arthur and Martha (Barnes) Blasius.
Gene attended Three Rivers Schools and after graduation began work for Weyerhauser as a Millwright and in maintenance for over forty-seven years before retiring.
Eugene served as the Assistant Fire Chief of Three Rivers for 20 years. He was also a lifetime member of the Local Fraternal Order of the Eagles. Gene loved tinkering with things, especially cars, and loved to share the joy he found in antique cars and tractors with the ones he loved. He was a member of the antique car club of Three Rivers and his collection ranged from cars to tractors and mowers.
Eugene was preceded in death by his wife Elnora Blasius; his three sisters: Doretha, Ethel, and Harriet; and Grandson Cameron Blasius.
He leaves to cherish his loving memory, five sons, Michael Blasius, Randy Blasius and Deb Faile, Daniel (Pam) Blasius , and Larry (Helen) Blasius , all of Three Rivers, Garry (MaryKaye) Blasius of Kalamazoo. Two brothers and one sister, Dave Blasius, Richard (Marilyn) Blasius, and Shirley (Ken) Davis all of Three Rivers. Several Grandchildren, Julie and Betsey Blasius, Kristina (Nathan) McGlocklin, Michael "Mikey" and  Korey Blasius, Kenny (Jessica) Blasius, and Brenda (Thomas) Howes, eight beloved great grandchildren.
The family will receive friends from 5:00 – 7:00 p.m. on Wednesday, September 20, 2017 at Hohner Funeral Home.
Funeral services will be held at 11:00 a.m. on Thursday, September 21, 2017 at the funeral home.
Interment will be held at Prairie River Cemetery.
Memorials may be donated to the Three Rivers Fire Department. Envelopes available at Hohner Funeral Home.