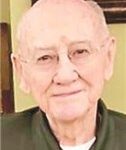 Lawrence B. Watson DVM, age 101, of Lakeland, Fla., passed away Sept. 6, 2017, at Lakeland Regional Health, following a brief illness.
He was born July 23, 1916, in Adams County, Ind., a son of the late Lawrence E. and Margaret J. (Dunwiddie) Watson.
Lawrence lived most of his life in southern Michigan. He graduated from Michigan State College of Veterinary Medicine in 1943, after which he set up a mixed veterinary practice in Colon for 51 years. He retired to Arizona in 1994 and later relocated to Florida in February 2016.
On July 3, 1945, he married Janet E. Eshelman in Colon.
He enjoyed golfing, playing cards with his friends, traveling and his family, especially his grandchildren.
He was highly active in his community and served as past president of Michigan State College Alumni Association, past president of Klinger Lake Golf Club and past president of Colon Board of Education. He was a life member of the Elks and a life member of the American Veterinary Medical Association.
He is survived by his wife of 72 years, Janet; a son, Thomas Watson of Green Valley, Ariz.; a daughter, Candace (Joseph) Downing of Mulberry, Fla.; a daughter-in-law, Linda Watson of Colon; grandchildren Nathaniel Pierson of Three Rivers, Rachel Pierson of Chattanooga, Tenn., Emily Pierson of Telluride, Colo., Jordan (Kirstin) Pierson of Three Rivers, Jennifer (Thomas Grube) Watson of Phoenix and Kristen (James) Bearup Kalamazoo; and great-granddaughters Lachlan Pierson and Eva Bearup. He also is survived by many nieces, nephews, cousins and friends he loved.
He was preceded in death by his parents; six sisters; a son, Lawrence B. Watson Jr.; and a grandson, Jeremy Wade Clark.
Per his request, cremation has taken place, and there will be no service.
The family suggests memorial gifts be made in Lawrence Watson's name to your favorite charity .