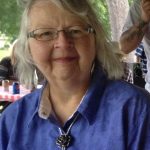 Linda L. McClain, 69, of Constantine, passed away on Saturday, September 16, 2017 at Grace Healthcare of Three Rivers. Linda was born in Three Rivers on March 5, 1948, a daughter of Charles and Betty Jean (Young) McClain. She graduated from Constantine High School in 1966 and later went to beauty school. Linda loved dogs, cats, and birds, and attended church at Porter Baptist Church.
Surviving Linda are her parents Charles and Betty McClain of Constantine, brother David McClain of Constantine, nieces and nephews Brad (Kari) McClain of Three Rivers, Kathy McClain of Florida, Kayla-Christine Martin of South Bend, and Zoe McClain of Three Rivers, and great-nephew Eli Martin of South Bend.
Relatives and friends will be received Tuesday, September 19 from 11-1 with religious services following at 1 PM at Porter Baptist Church. Pastor Randy Peterson will officiate. Interment of ashes will be held at a later date at the Constantine Township Cemetery.  In lieu of flowers, memorials may be made to the family, c/o Dave McClain, to help with funeral expenses. Online condolences may be left for the family at www.eleyfuneralhomes.com. Arrangements were entrusted to Eley Funeral Home, Constantine.