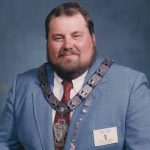 Michael Dean Reames, age 57, passed away unexpectedly early on the morning of Tuesday, September 26, 2017. He was born on May 22, 1960 to Dean and Mary Jo (Hicks) Reames. Mike went to Constantine Schools and graduated in 1979.
Mike was a proud member of the Three Rivers Elks and loved catching up with his friends during meetings. He also loved the outdoors and spending time duck hunting and gardening and was a member of the Union Conservation Club. He enjoyed serving at the Fabius Park Fire Department. He was a great cook that always appreciated a home cooked meal. Mike's favorite hobby was being an avid MSU fan and collecting everything Sparty. Go Green!
Mike is survived by his loving parents, Dean and Mary Jo (Hicks) Reames; his brother: Andy (Vinette) Reames, of Jones, MI; his sister: Kim (Mark) Glessner of Jones, MI; six very special nieces and nephews, Austin (Carrie) Allen, Brad (Jodie) Glessner, Bryan (Shantil) Glessner, Shelby Glessner, Jessee (Chelsea) Schoetzow, and Mitchell (Ashley) Schoetzow; 16 great nieces and nephews; and his precious dog, Sadie.
On Sunday, October 1st, 2017, the family will receive friends for visitation at the Bethany Chapel, 15130 Millard Road, Three Rivers, from 2PM until 4PM. Immediately following will be a memorial service with Pastor Timothy Moore officiating.
Memorials may be donated to the Newberg Township Fire Department, the Cystic Fibrosis Foundation, or the Bethany Chapel Church. Envelopes will be available at the Hohner Funeral Home, in care of Mike's arrangements, and also at the church. Online condolences may be left at www.hohnerfh.com.