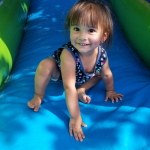 Nayla Michelle Ryans, age 2, of Elkhart, died on Sunday, September 3, 2017 from injuries sustained in a tragic accident. She was born in Elkhart on August 10, 2015 to Andrew and Odilia (Cantarero) Ryans. Nayla loved to swim, watch Mickey Mouse, and play with her cousins.
Surviving are her parents Andrew and Odilia Ryans of Elkhart, sister Amelia Ryans of Elkhart, grandparents Michelle and James Ryans of Jones, MI and Amado Cantarero and Rubenia Gonzales of Piraera, Honduras, great-grandparents Thomas and Jeanette Ryans, Aunts Rosa Cantarero, Xiomara Cantarero, Elisa Cantarero, Kimberly Ryans, and Kimberlyn Meuzalaar and Uncles Jesus Mejia, Eleazer Cantarero, Matilde Cantarero, Jacob Clements, Brandon Ryans, and Trey Ryans.
Relatives and friends will be received Friday from 4-8 PM at Eley Funeral Home in Constantine. Religious services will be held on Saturday at 11 AM at the funeral home, with Pastor Ken Bontreger officiating. Interment will be in Plum Grove Cemetery in Union, MI. Memorial contributions may be directed to the family. Online messages may be left for the family at www.eleyfuneralhomes.com.