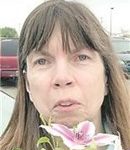 Patty Ann Farris, beloved daughter, sister, mom and grandma, was called home to heaven on Saturday, Sept. 16, 2017, after a courageous battle with ALS.
Patty was born May, 13, 1955, a daughter of Jim and Evelyn Melville.
Patty loved NASCAR, especially Jimmie Johnson, baseball, going to the casino, country music and spending time with family. A lot of her free time went toward crafts and craft shows along with baking and playing "Hay Day."
Surviving to cherish her memory are her daughters, Debbie of Concord, N.C.; Diane and Sherry of Sturgis; grandchildren Taylor, Abigail, Keagan and Damon; her mother, Evelyn Melville of White Pigeon; siblings Jerry (Joy) Melville of Schoolcraft, Sandy (Terry) Munson of Three Rivers andVickie (Bob) Dodson of Constantine; many nieces and nephews; and the special love of her life, Ken Bennett of White Pigeon.
Patty was preceded in death by her grandparents; her father; and a sister, Linda.
Viewing will be from 5-8 p.m. Wednesday, Sept. 20, 2017, at Farrand Funeral Home, 300 N. Kalamazoo St., White Pigeon. The funeral will be at 2 p.m. Thursday, Sept. 21, at the funeral home. Luncheon will follow at Constantine American Legion.
Memorials may be directed to ALS Research Foundation.