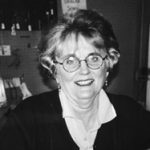 Priscilla McDonald, known by some as Dottie, passed away on Sunday, Sept. 10, 2017 after a brief illness.
Born Feb. 9, 1938 to Gordon P. and Louise Irene Henson. She married Paul Edward McDonald Dec. 21, 1956. Paul passed away in 1995. Together they had 5 children. Pamela (Joseph) Eichorn, Jenny (Bruce) Patterson, Kenneth McDonald, Todd (Christie) McDonald, and Keith (Angie) McDonald.
Dottie or Priscilla, whichever way you loved her, loved words and the positive affect they could have on others. Gracious, welcoming and kind many have shared to describe her. Years ago, she came upon this quote and decided to live her remaining years by it.
"To laugh often and much, to win the respect of intelligent people and the affection of children; to earn the appreciation of honest critics and endure the betrayal of false friends; to appreciate beauty, to find the best in others; to leave the world a little better place than we found it, whether by a healthy child, a garden patch or a redeemed social condition; to know even one life breathed easier because you lived. This is to have succeeded." -Bessie Anderson Stanley
These words are hoped to not only inspire her 10 grandchildren: Alison, Erin, Adam, and Eric (MI) Morgan, Whitney, Chelsea (CA) and Austin and C.J. McDonald and Britney McDonald (MS) and her 9 great grandchildren, but also you the reader.
Her family can hear her now saying, "Thank you for taking the time to read this. Have a lovely future." Priscilla (Dottie) McDonald succeeded in this with the dignity of a statesmen and the grace of a queen.
Visitation will be held from 5 until 9 p.m. Wednesday, September 13, 2017 at Sherman Church of Christ, Tupelo, MS.
Visitation in Michigan will be held from 11:30 p.m. until time of services beginning at 12:30 p.m. on Saturday, September 16, 2017 at Moorepark Community Church with luncheon to follow.
Private interment will be held at Riverside Cemetery in Three Rivers.
Memorial donations may be directed to Sanctuary House, P.O. Box 2177, Tupelo, MS 38803.  Envelopes will be available at church.
Local arrangements by Hohner Funeral Home.