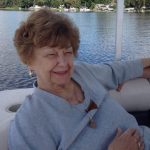 Rebia Jean Caletri, age 82, of Three Rivers, passed away on Wednesday, September 20, 2017 at Three Rivers Health.  She was born in Somerset, KY on August 27, 1935, the daughter of Manford and Olive (Dykes) Sowder.
On July 14, 1956 Rebia was united in marriage to Don J. Caletri. Together, they raised three daughters and made Three Rivers their home for many years.  She was employed as store manager at River City Home and Appliance for over twenty years.  Rebia was a member of First United Methodist Church where she coordinated many activities and events.  She was also a member of the American Legion Auxiliary.  Rebia was an avid reader and loved to travel.  Most of all, she cherished time spent with family and friends.
Rebia was preceded in passing by sister, Dorothy Mullins.
She leaves to cherish her memory her loving husband of sixty-one years, Don J. Caletri; daughters, Jeanie (Denny) Dykstra of Canton, MI; Teresa (Edward) Bunnell and Carol Caletri both of Three Rivers; grandchildren, Jill (Kurt) Hornick and Don Dykstra; great grandson, Jack Hornick; brothers, Garold (Neta) Sowder of Kentucky and Richard (Kathy) Sowder of Texas; and sister, Carolyn (Harry) Barney of Texas.
In accordance with family wishes cremation will be conducted and memorial services will be held at 11:00 a.m. on Friday, September 29, 2017 at Hohner Funeral Home with Pastor Derl Keefer officiating.
Memorial donations may be directed to St. Jude Children's Hospital.  Envelopes available at Hohner Funeral Home in care of arrangements.   Online condolences may be shared at www.hohnerfh.com.