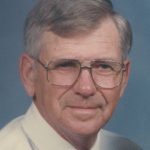 Mr. Walter Roy Fenwick, age 86, of Three Rivers, went to be with his Lord peacefully, surrounded by his loving family on Saturday, Sept. 9th, 2017 at Three Rivers Health.  He was born on February 12, 1931 in Portage, the son of Lester and Ethelyn (Bradford) Fenwick.
Mr. Fenwick attended Vicksburg Community Schools, where he excelled at track and field, holding records for over eight years.  Walt graduated with the class of 1950.  He then entered the U.S. Air Force where he was stationed in England and Massachusetts during the Korean Conflict in airplane maintenance.  Walt was proud to be a lifetime farmer of the family farm and rented acreage in St. Joseph and Kalamazoo County.  When Walt wasn't on the tractor, he enjoyed spending time with family, ice fishing, and bowling.  He was a member of Center Park United Methodist Church. 
Walt lost vision in one eye and retained only partial vision in the other due to an accident in his thirties but he never let that keep him down, he persevered and lived a fruitful life.  Walt loved his family and friends and will always be remembered as a good man.
Walt was preceded in death by his loving parents and his friend and brother Paul Fenwick.
He leaves to cherish his loving memory, wife, Beverly (VanVorst) Fenwick, whom he married on June 18, 1966.  One daughter, Deborah Ann Fenwick, of Chicago; three sons, Robert Roy (Cindy) Fenwick, of Three Rivers, Bradford Scott (Heather) Fenwick, of Three Rivers, and Brian Walter (Kevin Chanashing) Fenwick, of Chicago; special grandchildren, Deidre (Shaun) Uhl, Colin, Audrey, Zachary, Hannah, Tyler Fenwick, and Savannah Fenwick-Chanashing; one great-granddaughter, Lilly Uhl.
The family will receive friends from 4:00 p.m. to 8:00 p.m. on Wednesday, Sept. 13, 2017 at the Hohner Funeral Home.
Funeral Services will be held at 11:00 a.m. on Thursday, Sept. 14, 2017 at the Hohner Funeral Home with Pastor Marty Culver officiating.  Burial will take place at a later date.
Memorials may be donated to Center Park United Methodist Church or the Michigan Eye Bank.  Envelopes available at the funeral home.  Online condolences may be left at  hohnerfh.com.