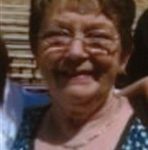 Brenda Joyce Johnson, age 75, born on August 26, 1942. . .passed away on Tuesday October 17, 2017 at Grace Health Care in Three Rivers.
Brenda owned and operated Meeks Mill Restaurant in Constantine, where she will be remembered as a bright shining light. She was born to William and Ruth Chambliss and was the oldest of two children, her surviving brother Glenn (Billie) Chambliss is of Three Rivers. Brenda was preceded in death by her parents William and Ruth.
She is survived by seven loving children: Tim Johnson, Tammy (Robin) Esquerra, Lisa Johnson, Tracy Johnson, David (Rachel) Johnson, Michelle Case, and Kristen (John) Degroot. She is also survived by 13 grandchildren and 7 great grandchildren.
Brenda's family will receive friends beginning at 1:00 p.m. on Tuesday October 24, 2017 at the Hohner Funeral Home with the Memorial Service starting at 2:00 p.m. with Pastor Kyle Foster officiating.
In lieu of flowers the family has asked that memorials in Brenda's honor be made out to the charity of one's choice. Envelopes available at the funeral home.