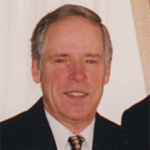 Daniel T. Stokoe, of Kalamazoo, passed away early Thursday morning, Oct. 26, 2017 at Bronson Methodist Hospital in Kalamazoo. He was born on Jan. 25, 1943 in Jackson, Mich. the son of Thomas and Ruth (Pennington) Stokoe.
Dan started his early years in Jackson before he and his family moved to Three Rivers in 1952. In 1961, he graduated from Three Rivers High School. Dan continued his education and earned a Master's Degree in Education from Western Michigan University. On Dec. 17, 1966, he was united in marriage to Judith M. Cross. He was employed by Plainwell Public Schools until his retirement. Dan was an avid golfer, enjoyed fishing and loved U of M Football.
Surviving are his wife of 50 years, Judy Stokoe; their two daughters, Deborah (Randy) Postmus and Susan (Tim) Hendershott both of Kalamazoo; four grandchildren, Seamus and Cara McGroaty, and Morgan and Lily Hendershott; brothers, James (Carolyn) Stokoe of Three Rivers, and twin brother David (Mary Ann) Stokoe of Lodi, California.
A memorial service to celebrate Dan's life will be held at 11 a.m. on Wednesday, Nov. 1, at Langeland Family Funeral Homes, Westside Chapel, 3926 S. 9th St., Kalamazoo. Private inurnment will follow in Riverside Cemetery, Three Rivers. Memorial contributions may be directed to West Michigan Cancer Center.
Please visit Dan's personalized webpage for driving directions or to leave a condolence to his family at www.langelands.com.