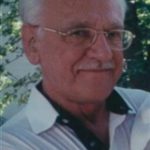 Ed Sordyl, age 89, passed away at 4pm on Saturday, October 21st, at Grace Health Care Center. He was born in Chicago on October 16th, 1928, to Joseph and Victoria Sordyl.
Ed served in the Army as Corporal in WWII Japan and later in Korea. On June 9th, 1956 he married Donna Jean Miller who preceded him in death on January 2nd, 2000. On May 3rd, 2002 he married Doris Irene Wardle, she survives. He was preceded in death by seven sisters and one brother, and is survived by two daughters Deb (Ron) Hoffman of Elkhart, IN and Vicki (John Chapleau) Sordyl of South Bend, IN; a sister Ann Krolikowski of Brookfield, IL; several nieces and nephews; three step-daughter: Sandra (Bill) Cooley, Janice (Tom) English, and LuAnn (Mary) Holverstott; three step-grandchildren; and five step great grandchildren.
Ed was an excellent carpenter, having done work on all of his homes, completing the home on Franklin Drive. He always had a woodworking project going on. He worked at Continental Can Company for 34 years staying on with them for several more after they became Fonda Corporation. He attended the Bible Church, First Baptist Church, and served as treasurer at the Nazarene Church, all in Three Rivers. He volunteered for AARP doing Income Tax Preparation and also worked the soup kitchen at the Episcopal Church.
What he loved most was staying at home in his lazy boy with his dog Sweetie Pie on his lap. He will be remembered by many as a gentle, kind, and polite man; an exemplary example of love and forgiveness.
A private visitation was held Monday, October 23rd at Hohner Funeral Home. A public graveside service will be held on Thursday, October 26 at 1:00 p.m. at Moorepark Cemetery, Three Rivers officiated by Chaplain Brian Lutz of Heartland Hospice. Military Honors will take place under the auspices of the American Legion Post # 170.
Memorials may be made to Heartland Hospice or your favorite dog rescue.  Envelopes available at Hohner Funeral Home in care of arrangements.