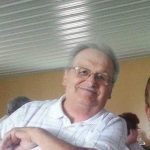 Edward E. Miller, 85, of Centreville, passed away peacefully on Saturday, October 14, 2017 into the arms of Jesus. He was born in Arthur, IL, January 18, 1932, to Ezra and Mary (Gingerich) Miller. He attended school in Defience Co., OH.
On June 9, 1956, he married Katie Ann Borkholder Miller at Moorepark Mennonite Church, Three Rivers. They lived in the Mendon area for 32 years then moved to Centreville in 1989. He and his wife owned and developed Eddie's-Hide-Away Campground in Centreville for many years. They were also owners of Wheel Camper Corporation in Centreville. In 1973, they built E&K Restaurant, Centreville. Together they managed it for 22 years. They were known for their good food. They worked together many years of their married life. They were also one of the founders of Yapper Camping Group in Centreville/Three Rivers area. They enjoyed camping with their family and friends.
Ed was a member of the Wasepi Chapel for many years where he was an Elder and taught Sunday school and Bible school. He loved his family, children and grandchildren. He enjoyed winters spent in Florida and was a member of the Gideon's International for 48 years.
He is survived by his loving wife Katie of Centreville; children Carol (Randy) Rice of Sturgis, Doyle (Rhonda) Miller of Centreville, and Dean (Darla) Miller of Sturgis; grandchildren Caleb (Natasha) Miller, Harmony Miller, Sherese Miller, Katelyn Rice, Gabriel Miller, and Anthony Rice; step grandson Christopher (Laura Anderson) Rice; step great-granddaughter Madison Rice; step brothers Melvin, Marvin, Raymond, and Joseph Schlabach; step sisters Dorothy Bontrager, Marjorie Bontrager, and Mary Schwartz; brother-in-law Mackie Carpenter; sister-in-law Ruth Miller; and many nieces and nephews. He was preceded in death by his parents, brothers Fred, Ora, and Raymond Miller, sisters Clara Mullett, Katie and Ruth Miller, Ann Gingerich, and Naomi Carpenter; and granddaughter Christian Charity Miller.
Relatives and friends will be received Tuesday from 2-8 pm at Firm Foundation Ministries, where religious services will be held Wednesday at 11 am with Pastors Randy Miller and Tom Schwartz officiating. Interment will follow in Nottawa Township Cemetery. Memorial contributions may be directed to Gideon's International. Arrangements were entrusted to Eley Funeral Home, Centreville. Online condolences may be left for the family at www.eleyfuneralhomes.com.