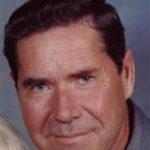 George Edward Lewis, age 78, of Three Rivers, passed away on Saturday, September 30, 2017 at his home surrounded by his loving family.  George was born on July 3, 1939 in Argos, Indiana the son of the late Andrew and Gertude (Gotschalk) Lewis.
Mr. Lewis graduated from Three Rivers High School in 1958 and on 1959 married the love of his life Mrs. Marsha (Detwiler) Lewis.  George worked with heavy equipment and transportation throughout his career at Clifton Engineering, Continental Can, Bloom and Meyer and eventually retired from the C.M.I. Transportation Company as Safety Director in 2002.   George loved spending time on the lake with his family doing water sports of all kinds.  Everyone who knew George will remember his smile, his spirit, and his never give up attitude.
George was preceded in death by his parents, and one brother Richard Lewis.
He leaves to cherish his loving memory, his wife of 58 years, Marsha (Detwiler) Lewis; three sons, Tim (Colleen), Terence (Sue), and Thomas Lewis, all of Three Rivers, four grandchildren, Tim (Tiffany), Tyler (Lindsey), Ryan and Rachael Lewis; three great-grandchildren, Ivee, Ava, and Raylan Lewis.  One Brother, Chester Lewis, of Bovey, MN., one sister, Bonnie Carta, of Three Rivers.
The family will receive friends from 5-7 p.m. on Wednesday, Oct. 4, 2017 at the Hohner Funeral Home with Rosary Service beginning at 7:00 p.m.
Memorial mass will begin at 12:00 noon on Thursday, Oct. 5, 2017 at the Immaculate Conception Catholic Church with Father Antony Rajesh officiating.