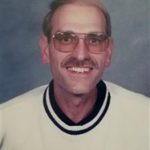 Harry E. Raifsnider Jr., age 65, of Three Rivers, passed away at his home surrounded by his family on Friday, October 27th.  Harry was born on January 9th, 1952 in Three Rivers, the son of Harry, Sr.  and Mary (Smallcombe) Raifsnider.  He graduated from Three Rivers High School in 1970 and went on to graduate with a Bachelor of Science in Mathematics from Alma College in 1974.  He was employed as a manager at Peterson Spring Corp for several years before becoming a supervisor for H.B.E. Engineering where he retired in 2013.
Harry's favorite pastime was golf.  In his younger years he was on the Three Rivers golf team and a four-year varsity golf letter winner at Alma College.  He also won several tournaments and events at The Moors Golf Club, where he was a long time member.  Harry played some of the best golf of his life this past summer. Harry spent the majority of his childhood at Fisher Lake, and eventually bought his own place on the lake in 1977.  He enjoyed fishing, his speedboat and spending time with his family at Fisher Lake.
Harry was preceded in death by his father, Harry Raifsnider, Sr.
He leaves to cherish his loving memory, his mother, Mary Raifsnider, of Three Rivers; three beloved children, Derek Raifsnider, of Vicksburg, and Alisa and Jacob Raifsnider, and their mother, Kathy Raifsnider all of Three Rivers; one brother, Ron (Jane) Raifsnider, of Florida; and one sister, Janis (Fred) Savage, of Hanover, MI.  Several nieces and nephews and cousins also survive.
The family will receive friends from 5-7 p.m. on Wednesday, November 1, 2017 at the Hohner Funeral Home with a Rosary service beginning at 4:30 p.m. with Deacon Bart Connelly presiding.
Mass of Christian Burial will be held 11:00 a.m. on Thursday, November 2, 2017 at the Immaculate Conception Catholic Church with Fr. Antony Rajesh as celebrant.  Interment will be held in South Park Cemetery.
Memorials may be donated to the Raifsnider Family c/o Derek Raifsnider.   Envelopes available at the funeral home.