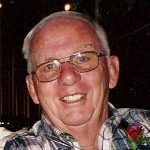 Joseph "Jim" Fankhauser, age 87, of Three Rivers passed away on Friday, September 29, 2017 at Heartland Healthcare Center. He was born in Kalamazoo, the son of Joseph J. and Bessie L. (Parr) Fankhauser.
On September 2, 1950 Jim was united in marriage to Donna May (Burnham) whom preceded her in passing. He was employed in the maintenance department as an Insulation Crew Supervisor for UpJohn Company for over thirty years before his retirement. Jim was a member of the First United Methodist Church and also the Masonic Lodge of Three Rivers.
Jim was preceded in passing by his parents; wife, Donna Fankhauser on December 6, 2008; brother, Duane Fankhauser and sister-in-law, Wanda Fankhauser
He leaves to cherish his memory daughter, Janie (Paul) Reeves; son, James (Shirley) Fankhauser of Schoolcraft; grandchildren, William, Christopher, Darcie, and Tammy Whitlock, Blake, Brady, and Teagan Reeves; great grandchildren, William Fankhauser, Genievive and Jonathan Whitlock.
The family will receive friends from 11:00 a.m. until time of service beginning at 12:00 noon on Friday, October 6, 2017 at Hohner Funeral Home with Pastor Derl Keefer officiating. Interment will be held at Riverside Cemetery in Kalamazoo.
Memorial donations may be directed to the Charity of One's Choice. Envelopes available at Hohner Funeral Home in care of arrangements. Online condolences may be left at www.hohnerfh.com.