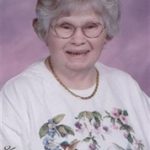 Mabel Lorraine (Sweet) Galleher, age 94, passed away on Sunday, Oct. 15th, 2017 peacefully at home surrounded by her loving family.  Mabel was born in Constantine on Sept. 12, 1923 the daughter of the late Ray Arthur and Cynthia Ann (Wager) Sweet.  She attended school in White Pigeon graduating from 8th grade.  She went to work at Jonker's Café and later for Drake's Casket Company.
On July 31, 1948 she married Robert W. Galleher.  They lived in Constantine and later moved to Three Rivers.  Mabel loved doing ceramics, playing bingo at C.O.A., going to garage sales, and crocheting and needlework.  She also loved traveling up north to the Mackinac Bridge, Manistee Lake, and any of the Great Lakes.  Her favorite place was Walt Disney World and all of the characters.  She especially liked going to her granddaughter's band concerts and parades.
Mabel was preceded in death by her parents, her husband Bob in 1997, an infant brother, sister Mary Emma Oxley, and brother Warren Sweet.
She leaves to cherish her memory, daughter, Mary Ann (John) Trattles of Three Rivers; granddaughter, Katy Trattles, of Three Rivers; sister Audrey Hartman, of Constantine.  Many nieces and nephews and special friend Dawn Affhalter of Three Rivers.
Visitation will be held on Friday, October 20, 2017 from 2:00 p.m. to 4:00 p.m. and 6:00 p.m. to 8:00 p.m.  at Hohner Funeral Home. A Funeral Service will be held on Saturday, October 21, 2017 at 11:00 a.m. at the funeral home.