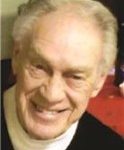 James S. "Stan" Miller, 91, of Battle Creek, passed away Friday, Oct. 6, 2017, at The Oaks at Northpointe Woods, surrounded by his family.
Stan was born Nov. 11, 1925, in Three Rivers, a son of Otto L. and Ethel (Pierce) Miller. He was a 1943 graduate of Three Rivers High School. He was a veteran, serving in the U.S. Army Air Force during World War II from 1943 to 1945.
On June 29, 1947, he was united in marriage to the former Aileen Abshire, who preceded him in death in 2008. Stan had been a resident of the area since 1958, coming from Sturgis.
Stan was a service station owner and purchased his first station in Sturgis in 1949 with brothers Vaughn and Nyle. He then purchased the Standard Oil Station at Capital and Columbia in 1958; the business is now Miller Brothers Service. He was a past board member and longtime member of Riverside Country Club. He enjoyed golfing and driving the backroads with his wife of 61 years, Aileen, visiting 49 states.
Surviving are his sons, Vince (Margie Abbey) Miller, Michael Miller (Pam George) and Mitch (Debbie Speelman) Miller, and daughter-in-law, Rhonda (Wood) Miller, all of Battle Creek; 10 grandchildren and 13 great-grandchildren; and a sister-in-law, Jean (Bolander) Miller.
He was preceded in death by a son, Scott Carlson Miller, in 2015, and brothers Vaughn and Nyle; and a daughter-in-law, Mary (King) Miller.
In accordance with his wishes, cremation has taken place. A wake celebrating Stan's life will be held 1-5 p.m. Wednesday, Oct. 11, 2017, at the Riverside Golf Club banquet hall. A private graveside will be held at Riverside Cemetery in Three Rivers.
In lieu of flowers, memorials may be made to the Michigan chapter of the Cystic Fibrosis Foundation. Arrangements are by Richard A. Henry Funeral Home, www.henryfuneralhome.org.