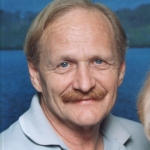 Terry Noel Wilson, age 78, of Jones, passed away on Sunday, October 29, 2017 at Goshen Hospital. He was born on May 1, 1939 in Cutler, IN, a son of Orville and Juanita (Lavell) Wilson. Terry served in the United States Army in McClellon, AL from March 8, 1962-September 7, 1962. On August 13, 1977, he married Joyce Westphal in Constantine; she preceded him in death on October 30, 2005. He worked as a plumber at Sheiner and Sons, Elkhart, for 39 years. He was a member of the United Association Local 166 for 53 years, the Jones/Constantine American Legions for 40 years, Elkhart Moose Lodge for 28 years, and a lifetime member of the Cass County Conservation Club.
Terry is survived by his children Kathy (Joe) Spangler of Yorktown, IN, Penny Gailhouse of Marcellus, and Joe (Susan) Wilson of White Pigeon; grandchildren Ryan Spangler, Jennifer Spry (Jeremy Dunn), Zachary McKenzie, Allyssa (Joseph) Lucarelle, and Jordan Wilson; great grandchildren Haley, Cole, Joey, Vinnie, and Cooper; brothers Jim (Jayne Ann) Wilson and Dick (Joyce) Wilson; sister Pam (Tim) Lawis; and many nieces, nephews, and cousins.
He was preceded in death by his parents, stepmother Myrtle Wilson, wife Joyce Wilson, and brother Ronald Wilson.
Relatives and friends will be received Friday from 1-3 PM at Eley Funeral Home, Constantine, with religious services following at 3:00 PM. Pastor Terry Neumayer will officiate. Interment will occur in Poes Cemetery. Memorial contributions may be directed towards Constantine American Legion or Cass County Conservation Club. Online condolences may be left for the family at www.eleyfuneralhomes.com.