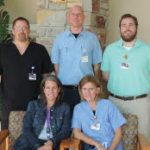 Three Rivers Health is pleased to announce our Employees of the Quarter for the third quarter of 2017. The honorees are Jody Alger, Engineer Tech II, Plant Operations; Michael Bylsma, DPT, Outpatient Physical Therapy; Julianne Downes, RDN, Clinical Dietician; Dawn Kolbe, RN, Ambulatory Surgery; and Chris Menz, RT, Cardiopulmonary.
Three Rivers Health Employee of the Quarter awards took plave on Wednesday, October 18. Employees joined in celebrating the nominees and the selection of the five Employees of the Quarter. Dawn Arnold and Jim Ballentine of the Pure TRH Team emceed the "Spooktacular"event. Staff feasted on bats and cobwebs pasta, monster mash quesadillas, chicken boodle soup, witches stew, dirt pudding, deviled eggs, and bloody good punch. Shannon Hampten dressed the part in an all-black costume and mask. Her greetings to staff certainly surprised people as they entered the Cafe.
Winners are each awarded $100, 1/2 day vacation, a $10 Three Rivers Health Cafe gift card, and a choice of personal training or a massage at HealthTRAC.
The Employee of the Quarter program is designed to honor staff excelling in one or more of the Standards of Excellence at Three Rivers Health. Those standards are Respect, Accountability, Communication, Service/Quality, and Safety Awareness.