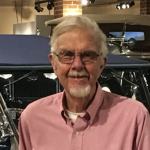 Wayne T. Massey, age 84, passed away October 22, 2017 at Borgess Medical Center. He was born in Harvey, IL on September 15, 1933, a son of Theodore and Edith Massey.   Wayne attended Thornton High School, graduating in 1951, and went on to serve in the U.S. Marines from 1953-1955. In 1955, he married Dorothy Ann Schreiber; she preceded him in death in 1969. In 1970, he married Betty Swafford in Illinois; she preceded him in death on July 24, 2015.
Wayne worked at Illinois Bell where he started as an installer and worked his way up through sales into management until retiring at age 54.
Wayne loved spending time with his family. He enjoyed cars, car clubs, guns, reading, and was a very talented artist.
Wayne is survived by daughter Kathy (Nick) Barnitz of Lawton, sons Kurt (Pam) Massey of Houston, TX and Jeff Massey (Barb Kuzma) of Crown Point, IN, grandchildren Nichole (Craig) Hulbert, Jeremy (Monica) Massey, Rachel (Donald) Gregory, Eric Barnitz, and Matthew Gaydon, great grandchildren Emmersen Gregory, Camilla Gregory, Madison Eleanor Hulbert, and one more on the way.
He was preceded in death by his parents, first wife Dorothy, wife Betty, daughter Julie Gaydon, and sister Lorraine Benson.
Cremation has taken place. A memorial service will be held on Saturday, October 28 at 1:00 PM at Eley Funeral Home, Centreville, with Pastor Emily Hansson officiating. Memorial contributions may be made to the Grandmother and CIG Fund at the Portage District Library. Online messages for the family may be left at www.eleyfuneralhomes.com.