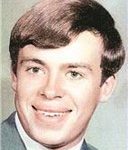 Barry Donald Bradley, age 69, of Colon, passed away Wednesday Nov. 1, 2017 at Bronson Methodist Hospital in Kalamazoo.
Barry was born Aug. 22, 1948, in Winnipeg, Manitoba, Canada, a son of Dr. Donald E. and Eileen (Pickthall) Bradley.
Barry grew up in Colon and attended Colon schools, Howe Military School and graduated from Sturgis High School with the class of 1967.
He had worked as a truck driver for Trism and Bennett Trucking logging more than 2 million miles.
He was a member of Colon Masonic Lodge and enjoyed trips to the family cabin in Canada, fishing, hunting, snowmobiling (in his earlier life) and going on cruises with his father.
He is survived by his mother, Eileen Bradley of Colon; a daughter, Teresa Bradley of Kalamazoo; three granddaughters, Jessica and Rebecca Beal of Kalamazoo and Caitlin Beal of Brandon, Fla.; six great-grandchildren; two brothers, Glenn S Bradley and wife Pam of Lawton and John T. Bradley and partner Gail Schley of Colon; a sister, Anne-Marie (Bradley) Woodruff and husband Mike of Colon; and a niece, Abby Bradley of Astoria, N.Y.
He was preceded in death by his father, Dr. Donald E. Bradley; and a nephew, Ryan Bradley.
A memorial service celebrating the life of Barry D. Bradley will be held at 5 p.m. Friday, Dec. 1, 2017, at Colon United Methodist Church, with the Rev. David J. Farrell officiating.