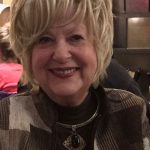 Diane Downer, age 78, passed away suddenly on Wednesday, November 8, 2017 in her home in Haslett, MI. Diane was born November 29, 1938 in Schenectady, NY. Beloved daughter of the late Duane & Frances (nee: Miller) Jones. Loving wife of the late Dean Downer. Adored mother of Scott (Sandy) Downer of Palatine, IL and Deane (Ron) Joiner of Northport, FL. Cherished grandmother of Kendall, Rhiannon and Evan. Diane is survived by her brothers: Bruce (Barbara) of Centreville, MI, Kenneth (Marilee) of Cupertino, CA and Tom (Suzanne) Jones of Dimondale, MI along with numerous nieces and nephews who thought the world of her.
Diane grew up/lived in the Centreville and Lansing area. She graduated from Sexton High School, attended Michigan State University for her bachelor's and master's degrees in education.
She taught 6th & 7th grade math for nearly 40 years in the Warren and Lansing school districts: Everett, Bingham, Gier Park and Pattengill.
She loved spending time with family and friends, attending the theater and cheering MSU football. She loved shopping, antiquing, nature, art, gardening, politics and spending winters in Florida.
Memorials can be made in Diane Downer's name to Wharton Center for Performing Arts and Lansing Area Capital Humane Society.
Visitation will be Tuesday, from 4-7pm at Gorsline Runciman Funeral Homes: 1730 East Grand River Avenue, East Lansing. Relatives and friends will be received Wednesday, from 12 to 1 pm at Eley Funeral Homes: 235 W. Burr Oak St. Centreville, with Religious services following at 1 pm.