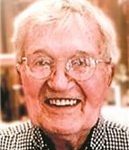 Dr. Robert Lou Mowry of Sturgis passed away on Sunday, Nov. 26, 2017, at Borgess Gardens in Kalamazoo, following a brief illness.
Bob was born Jan. 20, 1927, in Sturgis, and was the first born son to Russel L. and Mildred L. Mowry (Kelly). He grew up on his parents' farm, graduated from Sturgis High School, and was a veteran of World War II, serving in the U.S. Navy in 1945 through 1946. He received his first degree from Michigan State University, giving him his "vocation" for more than 60 years as a veterinarian. His job was healing animals, but his passion was education: literature, the arts and all aspects of the sciences. His life's goal was to make those fundamental attainments available to everyone in his community. He was a life-long academic and learner, as he both mentored and inspired others to continuously set and achieve their own greater goals.
Bob lived for, reveled in and happily doted on his family. His wife, children and grandchildren were his greatest joy. That is what he felt was his greatest gift to the world. That being said, he was instrumental in the design, concept and development of Glen Oaks Community College. He served the college in multiple roles as it grew and expanded. He worked with the Community Mental Health and Substance Abuse Services of St. Joseph County to offer the surrounding area well-structured care and support. He was a founding member of Open Door Gallery and Art Center (the co-operative gallery that showcases and encourages local artists) offering classes to artists of all levels. Bob had an innate ability to paint a landscape or floral grouping and was an accomplished artist in many media throughout his lifetime.
Bob is survived by his sister, Lora (William) Holtz of Wisconsin; his children, Kim Mowry Robertson (Thomas) of Sturgis, Lisa Mowry Trosien (Thomas) of Aurora, Ill., Kristin Mowry McCray (Patrick) of Schoolcraft and Daniel Robert Mowry (Sheila) of Portage. Survivors include six grandchildren, Lauren Robertson (Chester Martin) of New York, Marta Robertson (Mariano Alvarez) of North Carolina, Jenna Trosien of Illinois, Macie Trosien of Illinois, Alison Mowry of Michigan and Adam Mowry of Michigan.
He was preceded in death by his beloved wife and partner, Elizabeth (Woehr) Mowry; his twin brother, William L. Mowry; and his younger brothers, Douglas M. Mowry, Michael L. Mowry and Thomas N. Mowry.
In accordance with his wishes, cremation has taken place. Visitation for friends and family will be held from 1-4 p.m. Saturday, Dec. 16, 2017, at the Hackman Chapel of Hackman Family Funeral Homes, 114 S. Nottawa St., Sturgis.
In lieu of flowers, the family requests that donations be made in Bob's name to Open Door Art Gallery and Art Center, 101 W. Chicago Road, Sturgis, MI 49091; or Glen Oaks Community College, 62249 Shimmel Road, Centreville, MI 49032.
His obituary is also at www.hackmanfamilyfuneralhomes.com, where personal messages of support may be left for the family.