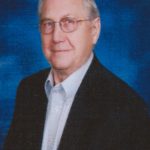 Mr. Fora "Fory" Wayne Leer, age 85, of Three Rivers, went to be with his Lord Jesus Christ on Saturday, Nov. 4, 2017 at his home surrounded by his loving family and friends. He was born on Feb. 23, 1932 in LaGrange County, the son of the late Clayton Duey and Nellie May (Miesner) Leer.
Fory attended Shipshewana-Scott Schools where he participated in basketball, track, softball, the school newspaper and the theatre. He graduated in 1951. From a young age, Fory worked on the family farm and outside the home.
Fory caught a glimpse of Linda Forney at Stone Lake at a young age. He later ran into her on a double date and they struck up a friendship. Fory worked hard to win Linda's heart, and even harder to convince Linda's mother of his intentions. Fory and Linda were married at Linda's home on December 29, 1956. Fory was drafted into the Army where Linda later joined him in Germany.
Linda and Fory settled in Elkhart, close to Linda's sister, Becky Parmater. Fory and Linda welcomed two son's Timothy Wayne and shortly later Spencer Wynn into their fold. The family of four built a home on Corey Lake, MI., where Fory used his tool and die trade at Armstrong Machine Works, which he faithfully served for 25 years before retiring. Fory enjoyed snowmobiling, waterskiing, woodworking, and four wheeling outside of work.
After faithfully caring for Linda in her cancer battle of several years, she passed away on August 7, 1992. Later, Fory built a home, bridge, and barns on Doobie Falls, Coon Hollow Road, which kept him busy in the midst of his loss.
Etta Griffin became Fory's close companion in 2011 and the two reveled in enjoying their last three years together. Fory felt blessed to have loved two wonderful women in his life, and even adopted another little girl after Etta's passing – Etta's little Boston Terrier, Bridget. Bridget was a comfort and wonderful companion to Fory in his final battle against MDS, a form of blood cancer.
Fory loved his boys, Bears Football, and the Chicago Cubs. He spent long days in the woods of Doobie Falls, chopping wood and "chewing the fat" around a bonfire. He was a generous, loving friend, and a wise "grandpa" to many, including his granddaughter, Kassidy Wynn Leer.
Fory is survived by his siblings, Doris and Buford; sons, Tim (Debbie) and Spencer (Mandi); granddaughter, Kassidy Leer; sister and brother in law   Pete and Becky Parmater and their children; his sweet dog, Bridget; numerous friends who felt like family; and one bright red Corvette.
Memorial services will be held at 11:00 a.m. on Friday, November 10, 2017 at First Baptist Church of Newberg. Memorial donations may be made to The First Baptist Church of Newberg, 13021 Born Street, Jones, MI  49061. Envelopes available at Hohner Funeral Home in care of arrangements. Online condolences may be left at www.hohnerfh.com