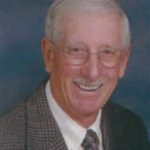 Gary Jay VanHeukelum, age 83, of Three Rivers, passed away suddenly at his home on Thursay, Nov. 2nd, 2017.  Gary was born on June 1, 1934 in Hudsonville, MI., the son of the late Louis and Johanna (Vruggink) VanHeukelum.
Gary graduated from Kalamazoo Central High School in 1952 and later from Western Michigan University with a Bachelor's degree.  On Nov. 24th, 1953 Gary was united in marriage to Mrs. Phyllis (Eshuis) VanHeukelum.  Gary taught school for several years at Battle Creek Central and in 1959 he and Phyllis moved their family to Three Rivers where they have resided at Corey Lake.  Gary owned and operated Gary Ford Motors and later worked in sales for Boeschenstein Motors until his retirement.
Gary was preceded in death by his parents, and one brother and sister-in-law, Melvin and Margaret VanHeukelum.
He leaves to cherish his loving memory, his wife of 63 years, Phyllis VanHeukelum; one daughter, Rebecca (Mike) Karle; two sons, Phillip (Gayle) and Eric (Terry) VanHeukelum, all of Three Rivers; one sister, Beatrice "Bea" (Julius) Hoveman, of Zeeland, MI.; one brother, Grant (Becky) VanHeukelum, of Gobles, MI.; nine beloved grandchildren, Allison VanHeukelum, Bobbi Jo (Kevin) Newland, Travis (Carrie) VanHeukelum, Sara VanHeukelum, Magen (Eli) McNutt, and Grant Karle; five adored great-grandchildren, Dillyn VanHeukelum, Leah and Kennedy Newland, Mason VanHeukelum, and Wade McNutt. Many nieces and nephews and friends.
The family will receive friends from 5:00 to 7:00 p.m. on Monday, Nov. 6th, 2017 at Hohner Funeral Home.
Memorial Service will be held at 11:00 a.m. on Tuesday, Nov. 7th, 2017 at the First Presbyterian Church with Rev. Brenda Deily officiating.  Family will receive friends at church one hour prior.
Memorials may be donated to the First Presbyterian Church of Three Rivers.  Envelopes available at the funeral Home.  Online condolences may be left at www.hohnerfh.com.