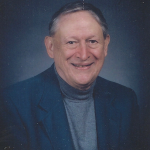 Herbert S. Pulling, age 88, of Sturgis, died on Saturday, November 11, 2017, at Skaggs Assisted Living in Burr Oak. He was born September 23, 1929 in Indianapolis, IN a son of Bert and Gertrude (Way) Pulling. Herb graduated from Jackson High School and served in the United States Air Force. On June 30, 1949 he married Mary M. Fairly in Jackson. She preceded him in death July 8, 2003.
Herb worked as an Engineer in the automotive industry for Wells Index of Three Rivers and Kelsey Hayes in Jackson. He was a member of Centreville Baptist Church and enjoyed golf, remote air planes, photography and traveling especially the backroads of Michigan.
Surviving are his children Deborah (Daniel) Hitch, North Platte, NE, Michael (RaeAnn) Pulling, Elkhart, Rebecca Woodbury, Mountain View, WY, Sarah Regnier, Jacksonville, FL and Timothy (Kalyn) Pulling, Sturgis, 14 grandchildren, 27 great grandchildren.
He was preceded in death by his parents, wife and son in law Charles Woodbury.
Relatives and friends will be received Sunday from 4 – 6 pm at Eley Funeral Home, Centreville.
Religious Services will be held Monday 11 am at Centreville Baptist Church, with Pastor David Peterson officiating. Memorial contributions may be directed to Centreville Baptist Church. Online messages may be left for the family at www.eleyfuneralhomes.com.