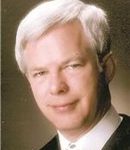 James Paul Noecker, 76, of Sturgis, died early Monday morning, Nov. 27, 2017, at Bronson Methodist Hospital in Kalamazoo.
Jim was born May 1, 1941, in Constantine, a son of Paul and Marion (Sartain) Noecker. He earned his degrees from University of Michigan, BBA in 1963 and JD in 1967. He worked as assistant prosecutor for St. Joseph County for two years before becoming its prosecutor.
He met and married Audra Kay Blood in 1969 and enjoyed 43 years of marriage until her death in 2013.
In 1981, he was appointed by Gov. William Milliken to fill the unexpired term of circuit court judge, later winning election and re-election in his own right. It was more than a job; it was a passion to which he devoted his life until 2004.
In his youth, Jim was a mischievous and fun-loving prankster. In later years, he gleefully told the story of a policeman who said to him after patrolling in Constantine, "Those folks still can't believe you're the prosecutor – you were the biggest outlaw they ever knew!"
He was proud to have had a tryout for the Detroit Tigers as a catcher. He was told he had the talent, but because of his size, he lacked the stamina to play the rigorous baseball season schedule.
He bled maize 'n blue, so it is no surprise that his children developed a rather strong appreciation, and bias, for the Wolverines.
Jim accepted the Lord Jesus Christ as his Savior in 2004. He was deeply impacted by the friendship and encouragement of Pastor Jerry Solis and his church family at Celebrate 1 Church in Three Rivers.
He is survived by three children, Audora (James) Burg of Sturgis, Annie (Joseph) Blouin of Knightdale, N.C., and Paul (Kitt) Noecker of Cebu, Philippines; eight grandchildren, Rachel Smith of Marquette, Andrew, Anna and Paul Burg of Sturgis, Madeleine, Grace and Joseph Blouin of Knightdale, N.C., and James Paul "Jimmy" Noecker of Cebu, Philippines; a sister, Laura Stevens of Elkhart, Ind.; a sister-in-law, Lois Veasy of Sturgis; several nieces; and special friend Yvonne Bogen.
He was preceded in death by his parents; and his wife.
Visitation is scheduled for 2-4 p.m. and 6-8 p.m. Friday, Dec. 1, at Rosenberg Chapel of Hackman Family Funeral Homes, 807 E. Chicago Road, Sturgis. Services will be held at 1 p.m. Saturday, Dec. 2, at Celebrate 1 Church, 58385 Kerr Creek Road, Three Rivers, with burial to follow in Oak Lawn Cemetery, Sturgis.
In lieu of flowers, memorial donations may be made to Celebrate 1 Church.
His obituary is also at www.hackmanfamilyfuneralhomes.com, where personal messages of support may be left for the family.