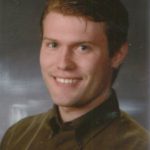 James "Jimmy" Souers Brundirks, age 39, of Three Rivers, passed away peacefully on Wednesday, Nov. 15th, 2017, at Henry Ford Hospital, surrounded by his loving family. He was born on August 15, 1978, in Kalamazoo, son of James E. Brundirks and Nancy (Souers) Pick.
Jimmy attended Immaculate Conception Catholic School for his elementary education and went on to graduate from Three Rivers High School in 1996. He attended Michigan State University for two years following high school and in 2004 graduated from Western Michigan University with a teaching degree. He taught abroad in Finland for a year before moving to Swan Quarter, NC, where he taught middle school. In the fall of 2006, Jimmy attended Wayne State University where he earned his Master's Degree in Library Science and Archiving. In 2008, Jimmy was diagnosed with a rare form of cancer and underwent surgery, radiation, and chemo. In 2010, he moved to Houston, TX, where he received treatment at M.D. Anderson. He fought hard for 7 years through multiple surgeries, clinical trials, and aggressive treatments. In the summer of 2017, Jimmy had exhausted all medical options and returned home to live his remaining time with his family and friends.
Many of Jimmy's happiest moments were spent with his family and friends, especially at Fishers Lake. He loved to read, play poker with his buddies, play fantasy football, go to casinos, and memorize every line from his vast list of favorite movies. Jimmy loved to travel, having spent time in Finland, Prague, and touring Eastern Europe. He had a love and commitment to helping feral and stray cats and fostered cats through the Friends For Life organization in Houston.
Jimmy is survived by his parents, James Brundirks and Juanita S. Kase and Nancy and Tom Pick; sisters, Maggie Happel and Elizabeth Graham and their spouses, Joel Happel and Kirk Graham; niece and nephew, Cameron and Eliza Happel; uncles and aunts, Dr. James Souers and Kathy Guthrie, Gary and Audrey Brundirks and Larry and Laura Brundirks; as well as extended family and friends and his cat buddies, Oliver and Pikku, who he rescued from the streets. A visitation will be held at Hohner Funeral Home, 1004 Arnold St., Three Rivers, MI 49093, on Saturday, November 25, 2017, from 2:00 to 4:00 PM, with a service to celebrate his life beginning at 4:00 PM. Memorial contributions may be made to the St. Joseph County Animal Rescue Fund, c/o the funeral home. Family and friends may share a condolence online at www.hohnerfh.com.