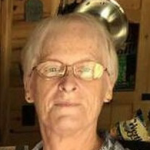 Kitty Miller, age 64, of Elkhart, died on Thursday, November 23, 2017. She was born January 9, 1953 in Van Wert, OH, daughter of Charles and Betty (Potter) Spahr. Kitty graduated from Hillsdale High School. On June 11, 1988 she married Ernie Miller in Centreville. Kitty was employed at Valmont Industries and previously at Pro Design in Elkhart.
Kitty enjoyed reading and crochet and especially black Friday shopping with her daughter Teresa. She cherished her grandchildren, taking them to the movies and making blankets and clothing for them.
Surviving are her husband Ernie Miller, Elkhart, daughter Teresa (Anand) Ramachandran, LaGrange, Betsy Hersha, Fort Pierce, FL, son Jeremy Hersha, Flint, their father Robert (Kellee) Hersha, Mishawaka, grandchildren Elizabeth (Juan) Miranda, Joshua Chandler, Karlie Owsley, Tyler French, Brianna Hersha, Manisha, Shakthi and Atreyu Ramachandran, great grandchildren Damien and Calliope, sisters Laura Childers, Hillsdale, Darlene Swihart, Marble, NC, brothers Charles Spahr, Plantersville, TX, Jeffrey (Judy) Spahr, Houston, TX, sister in law Jeannie Spahr, Sturgis, brothers in law Sandy (Cathy) Miller, Sturgis, Tom (Gail) Miller, Centreville, sister in law Bev (Mike) Yunker, Centreville, and many nieces and nephews.
She was preceded in death by her parents, sisters Polly Hersha, Vicky Carpenter and brother Anthony Spahr.
Relatives and friends will be received Monday from 4-7 pm at Eley Funeral Home in Constantine. Services will be held on Tuesday at 11 am at Centreville United Methodist Church, Pastor Sandy Miller officiating. Memorial contributions may be directed to Ernie Miller to help with expenses. Online messages may be left for the family at www.eleyfuneralhomes.com.