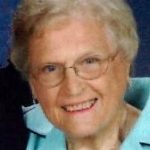 Marian Arlene Kline (nee Snyder), age 82, died at Hubbard Hill
Retirement Communityon Monday, October 30, 2017.  She was born on December 8, 1934 in
Marcellus, Michigan to John and Lillian Snyder.  She was predeceased
by her husband of 63 years, Carl, on February 5, 2016; they were
married in Union, Michigan on November 15, 1952. She is survived by
two daughters, Becky (Gareth) Davies of Rochester, MI; Jennifer (Mark)
Lindley of Aurora, CO;  two sons, Greg Kline of Dallas TX and David
Kline, of Elkhart; four grandchildren, Sian, Mark, Cameron and Tyler;
two great grandchildren, Alexander and Bronwen.  She was preceded
in death by her parents and two brothers, Donald and Kenneth. Marian
was active in church and community including Extension Homemakers
of Elkhart County, the Grange, Churchwomen's Fellowship, and was a
key member of the Mottville Bridge Festival Community during its 5
year history.  She was a busy farming wife and she and her husband,
Carl, traveled extensively throughout the world for business and
pleasure.  She was a long time member and board member of the
Vistula Christian Church and more recently, a member of First United
Methodist Church of Middlebury.  Marian enjoyed gardening, knitting,
sewing and spending time with her family. Visitation will be held on
Friday, November 3, from 4:00 pm – 7:00 pm at Miller Stewart Funeral
Home in Middlebury. Funeral services will take place at the new First
United Methodist Church of Middlebury at 720 South Main Street,
Middlebury, Indiana on Saturday, November 4, at 11:00 am, with
viewing starting at 10:00. Services will be conducted by Pastor Ron
Russell. Burial will be in Vistula Cemetery, Bristol. Memorials may be
given to First United Methodist Church of Middlebury.