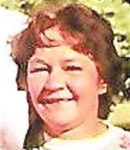 Marlene Adair Wait, 66, of White Pigeon, died on Saturday, Nov. 25, 2017, at home, following a two-year battle with cancer.
She was born Dec. 23, 1950, in Sturgis, a daughter of Fred and Mildred (Carr) Meier.
Marlene was a lifelong resident of the area. She was a 1969 graduate of Constantine High School. She was a lifelong member of American Legion Post 143 in Bristol, Ind., life member of DAV  of Elkhart, Ind., a member of Eagles Club 1314 in Sturgis and a member of Cass County Conservation Club in Union. She enjoyed cooking, mushroom-hunting, camping, bird-watching, animals and her dogs, Sammy and Shay, but most of all, she loved spending time with her friends and family.
She was married to Lanny Kimes of Middlebury for 19 years. She is survived by a son, Kody (Mariah) Kimes of Portland, Ore.; a daughter, Kelsie (Shawn) Puckett of Middlebury, Ind.; and her partner of four years, Russell L. Black of White Pigeon, and his children, Laura Lee Black-Saggars, Stacy Black and Brad Black. Also surviving are seven grandchildren; three great-grandchildren; two sisters, Dawn Martin and Renee Wyatt, both of Largo, Fla.; and a cousin, William (Uncle Bill) Carr of White Pigeon.
She was preceded in death by her husband, Donald Wait; her parents; and a brother-in-law, Robert Martin.
Graveside services and burial of her cremains will be held at 2 p.m. Sunday Dec. 3, 2017, at White Pigeon Township Cemetery, with Chaplain Roger Moyer of Sturgis Hospice officiating.
Donations may be directed to Sturgis Hospice.  A celebration of life service is planned for 1 p.m. Sunday, Jan. 7, 2018, at Cass County Conservation Club. Elkhart Cremation Services is entrusted with her care.