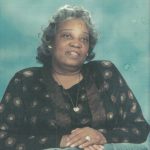 Mother Minnie Lee Willis, age 83, of Three Rivers passed away on Thursday, November 9, 2017 at Healthcare Center of Three Rivers. She was born on December 23, 1933 to Albert and Ellen (McClintin) Banks in Louise, MS. She was the youngest of 18 children.
Mother Willis relocated to Chicago in 1949. She was a long time member of her Brother Prophet King Peter Banks 'church, True Temple of Soloman in Chicago. She worked at Northwest Memorial Hospital from 1971 until 1980. She then relocated her family in 1980 to Three Rivers. Later that year, she married Rev. Herbert Willis. She took pride in her wonderful cooking skills, so in 1988 she opened up her own soul food restaurant and named it Paradise, and it was just that. She was a long time member of New Jerusalem Baptist Church of Three Rivers. She had seven children, Leavin "Yvonne", Aslee, William, Deborah, Cleritha "Tussy", James, and her baby boy, Kennedy; stepchildren, Herbert, Jr. and Kim. She was a foster mother to many, but held Camella Kay dear to her heart. Mother Willis was a God fearing woman that left lasting memories in the hearts of many.
On Thursday, November 9, 2017 Mother Willis was reunited with her parents, husband, Rev. Willis; all 17 of her siblings; daughters, Leavin Mitchell and Cleritha Holmes; grandson, Anthony Banks; great grandsons, Diapolis and Diablo Banks.
She leaves to cherish her memory sons, William, James (Dusty), and Kennedy; daughters, Aslee and Deborah; twenty one grandchildren; seventy great grandchildren; twenty-seven great-great grandchildren with one on the way; her beloved, Camella Kay; stepchildren, Herbert Jr. and Kim; many nieces, nephews, and long time friend, Mother Dorothy Ingram whom will all miss her dearly.
The family will receive friends from 11:00 a.m. until time of services beginning at 12:00 noon on Saturday, November 18, 2017 at New Jerusalem Baptist Church, 817 8th St, Three Rivers, with Pastor Tony Bennett officiating.
Interment will be held at Moorepark Cemetery, Three Rivers.
Arrangements entrusted to Hohner Funeral Home. Online condolences may be shared for the family at www.hohnerfh.com.