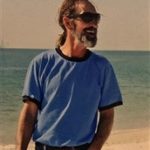 Paul Kenneth VanOver, age 63, of Marcellus, passed away surrounded by family on the morning of Thursday, November 2, 2017.
Paul was born December 18, 1953 to Lawrence and Gertrude (Butler) VanOver in Fort Worth, Texas. He spent a majority of his life here in Southwest Michigan. As a young man he lived in Florida where he met and married Susan McCormick. His adventures spirit allowed him and his family to experience living in several states across the country. He returned to his home roots of Michigan to raise his three daughters in which were his pride and joy. Paul was a journeyman, a welder by trade, into construction building, worked in the RV industry as well as owning two small businesses thru out his life.
In his spare time he enjoyed restoring vehicles and sailboats, fixing the go cart with his grandson, attending and watching NASCAR, landscaping, helping others, and his family home him and his daughters built together. Most importantly, Paul loved investing time in his family.
Paul was preceded in death by his parents, along with his brothers Thomas and Dennis VanOver and his niece Nickole VanOver. He was survived by his loving daughters Megan VanOver of Portage, Marina VanOver of Kalamazoo and Genevieve (Mike) Theil of Caledonia, his cherished grandchildren Corey, Kadence Arianna, Brielle and Bryson, his brothers Robert of Schoolcraft, Keith of White Pigeon and Ronald (Sue) VanOver of Marcellus, along with many nieces and nephews.
The family will receive friends from 10:00 a.m. until time of funeral services beginning at 11:00 a.m. on Tuesday, November 7, 2017 at Hohner Funeral Home with Pastor Bob Anderson officiating.
Interment at Schoolcraft Cemetery.
In lieu of flowers donations can be made in his honor to the Marcellus Community Food Pantry. Envelopes available and may be sent to the funeral home.