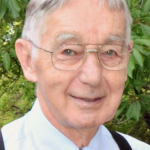 The Rev. Roland Richard Barkow (Emeritus), age 84, of Three Rivers, went to be with his Lord and Savior Jesus Christ on Monday, November 13, 2017. Roland was born in Ferndale, Michigan on November 29, 1932, the son of Reinhard and Sarah (Kinghan) Barkow.
Roland married Caroline Louise Seng on Nov. 29, 1958, and subsequently graduated from Concordia Seminary, St. Louis (1959). He served three congregations in Minnesota (1959-66) before accepting a call to St. John Lutheran Church in Ionia, Michigan (1966-67). In 1967, Rev. Barkow was installed as Pastor at St. Peter's Evangelical Lutheran Church in Three Rivers, where he served faithfully for 27 years. During his tenure at St. Peter's, Rev. Barkow earned a Master's Degree in Counseling from Western Michigan University (1970). Ministers never really retire, so after his service at St. Peter's, Rev. Barkow became Michigan's first certified Intentional Interim Pastor for the Lutheran Church Missouri Synod, allowing him the privilege to serve as interim Pastor for many Lutheran churches throughout the state.
Rev. Barkow loved his Lord and Savior, his family, and fishing (in that order). He also loved reading, walking, and volunteering throughout the community, where he touched countless lives. Most recently Rev. Barkow and his wife had been attending St. Michael Lutheran Church in Portage, Michigan.
His memory will be cherished by Caroline, his beloved wife of 58 years and his three sons and their families: Jonathan Barkow, Joel & Mary Barkow (Talitha and Anastasia) and Joseph & Kathie Barkow (Josiah & Kaitlin, Kelia, Kiah and Katryel).
The family will receive friends from 5:00-8:00 p.m. on Nov. 21, 2017, at the Hohner Funeral Home, 1004 Arnold St., Three Rivers.
Funeral services will be held at St. Michael Lutheran Church on November 22nd at 11:00 a.m., The Rev. Paul Naumann and The Rev. Kenneth Allan officiating. The service will be preceded by a 10 am visitation with the family. St. Michael Lutheran Church, 7211 Oakland Dr., Portage, MI 49024.
Graveside services will be held at Moorepark Cemetery, Three Rivers, beginning at 3:30 p.m.
Memorial donations may be made to St. Michael Lutheran Church in Portage, Lutheran World Relief or Mayo Clinic, designated for Parkinson's research. Envelopes are available at the Hohner Funeral Home. Online condolences may be left at www.hohnerfh.com.