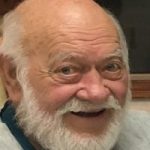 Ronald Max "Ron" Linton, 84, of Three Rivers, passed away early Tuesday, Oct. 31, 2017 at the Center for Hospice Care, Elkhart. A native of Elkhart, he was born Aug. 14, 1933 to the late Arshal J. and Margaret E. (Hardy) Linton.
Ron married Jean Vaughn on April 23, 1994 in Three Rivers. Jean survives, as well as a blended family of loving children, grandchildren and great grandchildren, including, Cathy (Dale) Snow, Leslie (Dan) Miller, Rhonda Linton, also Ed (Lisa) Vaughn, Michael (Cheryl) Vaughn, Susan Vaughn; also 19 grandchildren, 14 great grandchildren; brothers, Donald Linton, Larry (David) Linton, Roby Robinson, Johnny (Cory) Linton and sister Susie Linton. Ron was preceded in death by a son Steve Linton and brother Karl Robinson.
Ron served for 14 years with the Elkhart Police Department as a resource officer and on the motorcycle unit. After the Palm Sunday tornados, he was a member of the motorcycle escort for President Lyndon B. Johnson as he visited the devastation. On the way to the airport in South Bend, they were to handoff the escort to South Bend Police Department, but LBJ insisted they take him and thanked them all as he was boarding Air Force One.
Ron ran many successful ventures over the years, but later in life he became very well known and loved as "Santa Claus," a role he took great pride in. Ron worked as Santa in a professional capacity in a number of major cities, was cast as Santa in a national television commercial, and performed with the Detroit Orchestra before scaling back to work locally in Three Rivers and Constantine. Ron thoroughly enjoyed and cherished sharing special Christmas moments with local children and their parents. Ron enjoyed sports, especially the Cubs and Notre Dame. He also collected vintage trucks and even had his own fire truck at one time.
A service to celebrate the life of Ron Linton will begin at noon on Saturday, Nov. 4, 2017 at Billings Funeral Home, 812 Baldwin St. Elkhart. Friends may visit with the family beginning at 10 am. Private family burial will follow at Reams Norton Cemetery, Cassopolis. The family kindly requests no flowers, please consider memorials to the Hospice Foundation in Ron's name. Visit www.billingsfuneralhome.com to send a condolence to the family.