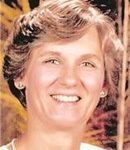 Sara Jean Moyer, 84, Centreville, died  on Sunday, November 19, 2017 in Portage. She was born on June 3, 1933 in Sturgis, a daughter of LeRoy and Wava (Miller) Evarts. Jean graduated from Centreville High School in 1951 and received her Bachelors and Masters in Education from WMU. She married Bruce Jones and later divorced. On July 27, 1985, Jean married Wendell Moyer in Centreville.
She was employed as a teacher for Centreville Public Schools as well as Lower Flatbush Country School near Three Rivers. Jean was a member of Centreville United Methodist Church.
Jean was a devoted mother and grandmother. A firm and fair teacher who had high expectations for her students, as she used her "indoor voice" in the classroom. Her retirement held the paradox of enjoying her time to write and spend time with her granddaughters while truly missing the teaching of her students. Her eloquence with the English language was reflected in her conversations, poems, and short stories. Her writings were inspired by her family, especially her husband Wendell and her grandchildren. She relished her winters in Florida with Wendell and their beloved dog, Molly, spending her time shopping, sightseeing, and taking writing classes. Her greatest joys were times spent with her family.
Surviving are her husband Wendell Moyer, Centreville, daughter Christine (Robert) Adams, Tinley Park, IL, sons Douglas (Yvonne) Jones, Three Rivers and Daniel Jones, Colon, step sons Jon (Shari) Moyer, Columbus, OH, Thomas (Marlin) Moyer, San Diego, CA, and Steven (Anne) Moyer, Worcestershire, England, and granddaughters Tara and Kylie Adams.
She was preceded in death by her parents and daughter Deborra Jones.
Cremation has taken place. Relatives and friends will be received Friday from 4-7 at Eley Funeral Home in Centreville. Religious Services will be held Saturday at 11am at Centreville United Methodist Church with Pastor Emily Hansson officiating. Burial of ashes will be in Lakeside Cemetery, Colon, at a later date.
Memorial contributions may be directed to Alzheimer's Association or Centreville United Methodist Church. Online messages may be left for the family at www.eleyfuneralhomes.com.