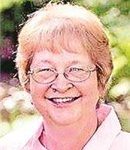 Shirley J. Modert, age 67, of Sturgis, passed away Saturday morning, Nov. 25, 2017, at Select Specialty Hospital in Battle Creek.
She was born Feb. 17, 1950, in Sturgis, a daughter of the late Mathias J. and Mary Rebecca (Mathews) Modert.
Shirley resided in the Sturgis, White Pigeon and Bronson areas her entire life.
She had been employed in the food service department at Sturgis Middle School for several years, a job she accepted so she could have more time close to her grandchildren. She also had worked at Creation Windows in Elkhart.
Shirley was an avid reader, enjoyed crafts and seemed to be always baking for others. She truly loved and appreciated time with her close family. She got along with everyone, was known as the peacemaker in the family and while reflecting on her life, not one family member can recall her ever raising her voice. It was a running joke within the family that the "Sisters" or "Aunts," as they were called, all had nicknames. Janet was the quiet one, Thelma the sweet one, Norma the mean (which she relished) and Shirley was the nice one. If you were fortunate enough to know Shirley, it was obvious how she got her name. At young ages, the brothers knew it was best to stay out of their way when the four sisters (the aunts) were together. Shirley loved her whole family, but what made her the very happiest was when she was together with her grandchildren. Grandchildren she loved spoiling and while with them the word no could not be found in Shirley's vocabulary. She always could be found at their many sporting events and activities, even while battling health issues that would keep others at home. She was immensely proud of her grandkids.
She is survived by her loving and dedicated daughter, Michele Mary Jandreau of Sturgis; cherished grandchildren, Brevin Thomas Jandreau and Marah Joann Jandreau; three sisters, Janet (Fred) Schlautmann of Bronson, Thelma Root of LeRoy and Norma (David) Diggins of Navasota, Texas; two brothers, Randy (Darlene) Modert of Sturgis and Rolland (Linda) Modert of Bronson; and many nieces and nephews.
She was preceded in death by her parents; two brothers, Ronnie Modert and Richard Modert; and a brother-in-law, Robert Edward Root Sr.
In accordance with her wishes, cremation has taken place. A memorial service honoring and celebrating the life of Shirley J. Modert will be held at 5 p.m. Thursday at Burr Oak Missionary Church in Burr Oak. The Rev. George Milliman will officiate. Immediately following the memorial service, a continued time of fellowship and the sharing of a meal will take place in the church fellowship hall. Private burial of the ashes will take place at Adams Cemetery in rural Bronson, where she will be laid to rest next to her parents.
The Hackman Chapel of Hackman Family Funeral Homes, 114 S. Nottawa St., Sturgis, is entrusted with the arrangements.
Memorial donations to the family in Shirley's memory would be appreciated, c/o: Michele Jandreau, to help with expenses; Sturgis Public Schools, 107 W. West St., Sturgis, MI 49091; or American Cancer Society , P.O. Box 22718, Oklahoma City, OK 73123.
Her obituary is also at www.hackmanfamilyfuneralhomes.com, where personal messages of support may be left for the family.