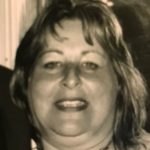 Tonya Elaine Smith, age 60, of Three Rivers, passed away on Sunday, Nov. 26th, 2017 at the Henry Ford Hospital surrounded by her loving family after battling a long illness. She was born on March 11, 1957 in Muncie, IN., the daughter of the late Williard D. Willis and Carolyn (Turner) Willis.
Tonya was united in marriage to the love of her life Edwin Smith in 1975. They found their home in Marcellus, and raised three wonderful children, Heather, Jason, and Josh. Tonya loved her family, her home, and spending time with her grandchildren.
She leaves to cherish her loving memory, her husband of 42 years, Edwin M. Smith, of Marcellus; one daughter, Heather (Keith) DeWitt,of Three Rivers; two sons, Jason (Lora) Smith of Glenwood Springs, CO., Josh (Lindsey) Smith, of Mendon; two brothers, Mark (Sandy) and Robert (Racheal) Willis; three sisters, Vicki (Steve) Mallo, Theresa Kovac, and Melissa (Dave) Stump; grandchildren, Kennedy, Keegan, Paisley, Haven, Gill and Finn Smith, Caitlin Hunt, Travis, Jacob, Noah, Emily, Syndney, Colin, and Adakin Dewitt; one great-grandson, Moe Hunt. Also Tonya loved her three furry friends Paris, Skye, and Cheyenne.
The family will receive friends from 1:00 p.m. until 4:00 p.m. for a celebration of Tonya's life on Saturday, December 2, 2017 at the Moorepark Community Church, 55701 Wilbur Rd., Three Rivers.
Memorials may be donated to the St. Joseph Animal Rescue Fund (A.R.F.) Envelopes available at the church and Hohner Funeral Home in care of Tonya's arrangements. Online condolences may be left at www.hohnerfh.com.