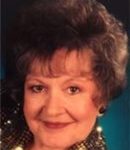 Wanna L. Heitkamp, age 82, White Pigeon, died Saturday, Nov. 4, 2017, at her home.
She was born March 15, 1935, in Constantine, a daughter of Earl and Arlene (Redding) Keller.
She had been a White Pigeon resident for the past 48 years coming from Three Rivers.
On June 14, 1968, she married Richard C. Heitkamp in Three Rivers.
She was employed at Weyerhauser in Three Rivers and Owens Illinois in Constantine. She retired in 1999 from Kirsch in Middlebury.  She was an avid bird watcher and crocheter and loved to put difficult jigsaw puzzles together.
Surviving are her son Gary Lewis, Mottville; daughters Glendora Lewis, White Pigeon and Georgeanne (Brian) Vaughn, Howe Ind.; several grandchildren; and great-grandchildren; nieces and nephews.
She was preceded in death by her parents; husband Richard; and three daughters, Gwendolyn Tavernier, Roxanna Groves and Kathleen Stiles; and a son, Richard Lewis.
Visitation will be from 5-7 p.m. Tuesday, Nov. 7 at Farrand Funeral Home in White Pigeon. Services will be held at 11 a.m. Wednesday, Nov. 8, 2017, with Pastor Terry Neumayer officiating of Trinity Missionary Church, Constantine. Interment will follow in White Pigeon Township Cemetery.