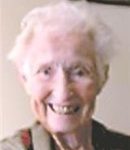 Alice O. Dobberteen, 94, of Sturgis, passed away in her sleep early Thursday morning, Nov. 30, 2017.
Alice Patricia Olds Loomis Dobberteen was born Aug. 19, 1923, in LaGrange, Ind., to George S. and Ethel L. (Wyatt Hissong) Olds. Alice was married briefly to Dick Loomis, prior to his early death.
In 1954, Alice married Joseph F. Dobberteen of Sturgis, and they became the most wonderful parents and family with their daughters, Leslie and Lauren. Alice was very creative in knitting and sewing, enjoyed bridge, golf and spending time at Klinger Lake. She had a true sense of fun and adventure with her demolition derby wins and love of her jet-ski. Alice had a love of travel that she shared with Joe, their girls and great friends and family.
Alice was preceded in death by her husband, Joe; daughter Leslie Newcomb; and brother Bill and his wife, Janice (Schermerhorn) Olds.
She is survived by her loving daughter Lauren and Leslie's husband, Dave Newcomb. She was a beloved aunt to, and survived by, Sharon Olds Curtis (Carl), Ginny Olds and Phidge Sweers Howe (Bryan), and Mary Lyn, Carol, Nancy, Jim (Carole), Eric (Cheri) and Kurt (Vickie) Dobberteen; numerous grand-nieces and grand-nephews; and many cousins, notably Roger (Carol) Olds.
The Hackman Chapel of Hackman Family Funeral Homes, 114 S. Nottawa St., Sturgis, is honored to be entrusted with arrangements.
In lieu of flowers, please consider donations to St. Joseph County Commission on Aging, 103 S. Douglas Ave., Three Rivers, MI 49093; Thurston Woods Village, 307 N. Franks Ave., Sturgis, MI 49091; or Sturgis Home Health Care, P.O. Box 126, Sturgis, MI 49091.
Per her request, cremation has taken place. A gathering of family and friends to celebrate the life of Alice Dobberteen will be held at a later date, to be announced.
Her obituary is also at www.hackmanfamilyfuneralhomes.com, where personal messages of support may be left for the family.