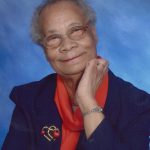 Clara Mae James, age 90, of Three Rivers, passed away on Sunday, Dec. 3, 2017 at Grace Healthcare. Clara was born to the parents of the late Allen Brown and Janie Harris on March 28, 1927 in Bessemer, Alabama. She was preceded in death by nine siblings.
She was married to Woody James, her husband of over 70 years. From this union their daughter, Barbara, was born.
She leaves to cherish her memory: Daughter – Barbara Daniel (Samuel), Grandson – Gerald Jones (Joy), Grandson – Patrick Daniel, Granddaughter – Patricia Harris (Jasper); Great-Granddaughters – Autumn Jones, Ajee Jones, Brijonai Jones, Nema Jones, Naiara Tamminga, and Jaslyn Harris; Great-Great-Granddaughter – Teigen Robinson; Devoted Nephew – Jimmie Pippens;  God-Granddaughter – Anna Shanklin; Church Daughters – Henrietta Tolbert, Lorraine Shelton, and Jackie May. She also leaves a host of nieces, nephews, and friends.
She united with Bethel Baptist Church in 1961, where she served under the leadership of four Pastors – Pastor Marshall Vaughn, Pastor Bobby Joe Tolbert, Pastor D.W. Tolbert, and Pastor Terry L. Cropper, Jr.
As a pillar of faith and stability in the church, she was crowned with the title of "Mother". During her many years of service, she was a member of the Official Board as Church Secretary. She also served as an Adult Sunday School Teacher and a member of the Missionary Ministry. In appreciation of her commitment to Bethel Baptist Church for over 50 years, she received the following recognitions: an award for continued dedication to the Teaching Ministry by Pastor Bobby Joe Tolbert in 1987, the "Solid Rock" award for outstanding service, enduring commitment, and devoted leadership by Pastor D.W. Tolbert in 2004, and an award for "Continuing Longevity, Devotion, and Exceptional Service" by Pastor Terry L. Cropper, Jr. in 2014. In addition, she was given the "Everyone Save a Child" award by the United Sisterhood – Wolverine State Baptist Convention in 2008.
The family will receive friends from 10:00 a.m. until time of services at 11:00 a.m. on Saturday, Dec. 9th, 2017 at the Bethel Baptist Church, 17852 S. River Rd, Three Rivers, with Pastor Terry Cropper officiating.
Interment will be held at Riverside Cemetery. Memorials may be donated to the Bethel Baptist Church. Envelopes available at the church and Hohner Funeral Home in care of her arrangements. Online condolences may be left at www.hohnerfh.com.