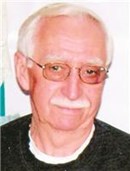 Mr. Cleon Harvey Burnham, age 82, of Marcellus, passed away peacefully on Monday, December 11, 2017 at his home with his wife by his side. Cleon was born on Sept. 29, 1935 the son of the late Shirley and Leona (Kline) Burnham. On Oct. 20, 1979 Cleon was united in marriage to the love of his life Ms. Shirley (Roberts) Marunde.
Cleon was employed by the Weyerhaeuser Company for forty years before his retirement. He loved to fish, hunt, and work in his garden. He also loved to feed the birds and took several fishing trips with friends and family to Canada. He truly loved his family and most recently enjoyed taking rides with his love Shirley.
Mr. Burnham was preceded in death by his parents, one sister, Shirley Dodgeson, and one brother, Roger Burnham.
He leaves to cherish his loving memory, wife Shirley (Roberts) Burnham, of Marcellus; two daughters, Kay (Randy) Davis, of Jones, and Sue (Jack "Duff") Plummer, of Niles; three step-children, Bonnie (Wayne) Smith, of Three Rivers, Michael Marunde, of Constantine and Patrick Marunde, of Sherwood; two sisters, Rosalee (Fritz) Dicken, Christina Fisher; one brother, Mike (Neva) Burnham; several grandchildren and great-grandchildren and his four-legged, furbaby, "Snuggles."
The family will receive friends from 5:00 p.m. until 7:00 p.m. on Thursday, Dec. 14th, 2017 at the Hohner Funeral Home.
Funeral Services will be held at 1:00 p.m. on Friday, Dec. 15th, 2017 with visitation one hour prior at Hohner Funeral Home with Pastor David Austin officiating.
Interment will be held in Moorepark Cemetery.
Memorials may be directed to Heartland Hospice, American Lung Association, or the Animal Rescue Fund. Envelopes available at the funeral home. Online condolences may be left at www.hohnerfh.com.