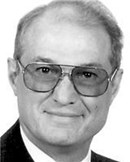 Milton "George" Miner, age 81, of Ashland, Ohio, died Thursday, Dec. 21, 2017, at Brethren Care Village in Ashland.
He was born March 31, 1936, in Grand Rapids, a son of Milton Clare and Leta Shields Miner. He was an engineer in both Michigan and Pennsylvania. Upon moving to Ohio, he was a co-owner of M&M Sales with his Uncle Marion Shields, then worked as a sales rep for Dayco Corporation. They returned to Michigan in 1982, when he became a co-owner and vice-president of sales for Republic Roller Corporation.
George was a member of Grace Brethren Church when they resided in Ashland and was active in various leadership positions.
He loved any and all outdoor activities, especially hunting, fishing and camping. He also taught hunter safety for years and was so glad to have taught several of his grandsons.
He is survived by his wife, Shirley Smelker Miner, to whom he was married Dec. 4, 1954; four children, Sherry (Gordon) Garling of Ashland, Gregory Miner of Centreville, Sonja (Scott) Bowles of Cincinnati and Shelly (Tom) Sanford of Sturgis; 12 grandchildren; 11 great-grandchildren; and two brothers, Jack Miner (Shirley) of Hastings and Timothy (Mary Ellen) Miner of Grand Rapids.
He was preceded in death by his parents; and a sister, Linda Hoffman.
Memorial services will be 11 a.m. Friday, Dec. 29, 2017, at Grace Brethren Church, with Pastor Norm Johnson officiating. Friends may call an hour prior to the service.
Burial will take place at a later date in Freeport.
Memorial contributions may be made to Alzheimer's Association  Northwest Ohio Chapter, 2500 N. Reynolds Road Toledo, OH 43615-0708; or to Brethren Care Village, 2000 Center St., Ashland, OH 44805.
Fickes Funeral Home in Jeromesville assisted the family with arrangements.
Online condolences may be made at www.fickesfuneralhome.com.