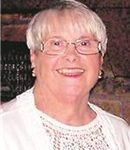 Jane Louise (Koehler) Kemp, age 76, of Klinger Lake, Sturgis, passed away Sunday afternoon, Dec. 3, 2017, at Bronson Methodist Hospital.
In accordance with her wishes, cremation has taken place. The family will receive friends to celebrate and honor Jane's life from 4-7 p.m. Thursday, Dec. 21, at the Rosenberg Chapel of Hackman Family Funeral Homes, 807 E. Chicago Road, Sturgis. A private memorial service will be held at a later date.
She was born Nov. 21, 1941, in Pittsburgh, a daughter of the late Dr. Ralph W. and Helen (Reed) Koehler, M.D.
Jane's early life was spent in Donora, Pa., where she was a graduate of Donora High School, class of 1959. She furthered her education at Marietta College in Marietta, Ohio, and Western Michigan University in Kalamazoo, where she was a member of the Chi Omega Sorority.
For many years, the Koehler family traveled to Coldwater Lake for summer vacations. This is where she met and married her husband, Hal C. Kemp, O.D., on Aug. 11, 1962. The newly married couple settled in Sturgis 13 years before moving to Klinger Lake, where they happily resided for the past 37 years.
Jane loved her family, friends and community dearly. Some of her involvements included Sturgis Junior Women's League, Sturgis Hospital Nursery and Pediatric Guilds, Bridge Club, Book Club, Birthday Club and Lake Country Club, as well as serving on the White Pigeon Township Library Board for several years. She enjoyed playing bridge and was a lifelong avid reader.
Janie is survived by her husband, Hal; her children, Kathy and Turner Wood of Chattanooga, Tenn., Max D. Kemp of White Pigeon and Brian R. Kemp of Chattanooga; grandchildren Charlie Wood of Chattanooga, Bailey Wood, a student at UCLA in Los Angeles, and Tyson Kemp of Grand Rapids; a brother and his wife, Donald R. and Lillian (Sugar) Koehler, M.D., of Cody, Wyo.; and several nieces and nephews.
She was preceded in death by her parents; and a brother, Jerome Koehler.
In lieu of flowers, the family suggests memorial donations in Jane's memory be directed to White Pigeon Township Library, 102 N. Kalamazoo St., White Pigeon, MI 49099.
Her obituary is also at www.hackmanfamilyfuneralhomes.com, where personal messages of support may be left for the family.